Del, 76, suffered a stroke in January 2018. The life-changing illness left the Royal Air Force veteran in a wheelchair and with very poor sight.
The determined veteran has been a talented fisherman all his life, and his sight loss meant that he could no longer see to tie flies for fishing.
But the master fly-tier is getting to grips with his hobby once more with a CCTV reader – an electronic device that magnifies onto a large screen – provided free-of-charge by Sight Scotland Veterans.
Del has received one-to-one support from Sight Scotland Veterans' rehabilitation and outreach teams, who liaised with him during his time in hospital and ensured various pieces of specialist equipment like a talking clock and suitable magnifiers were ready for him when he got home. The charity have also provided him with a Smartphone with specialist Synapptic software for people with a visual impairment to help him maintain his independence.
Del also enjoys attending his monthly Sight Scotland Veterans lunch club in Inverness to socialise with other veterans with sight loss supported by the charity.         
The grandfather-of-three said: "At first having a stroke made me angry. It's taken a lot of the things I was used to away. It's changed my life. I was told I would never walk again, but I'm starting to make inroads towards that and walk a bit. My eyesight is the one of the things I miss the most.
"I've been fishing since I was four and I used to tie a lot of flies. With the CCTV reader I can pass on my knowledge of fly tying to friends. The Synapptic smartphone the charity have provided is an asset.
"There are things that we've found out through the lunch club that, if it hadn't been for the charity, we'd never have known about. 
"It makes me feel tremendous. The support I've had is brilliant. It makes me feel like I've got somebody there if I need it."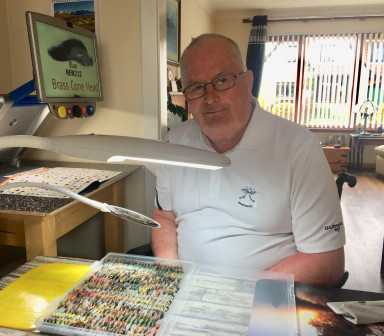 Get in touch
Contact us today to find out how we could help you or a veteran with sight loss you know.
You may also be interested in
We provide the space and opportunities to give veterans the chance to exchange experiences, ideas and gain new connections.
Learn more about how Sight Scotland Veterans' expert rehabilitation team could support a veteran with sight loss you know to regain and maintain their independence.
We've been around since 1915, and we're here to offer support across Scotland for veterans of the Armed Forces who need us today.