What is included at a Sight Scotland care home?
Full-time nursing care and accommodation, daily activities, all meals, home baking, tea and coffee and laundry are all included in the care home fee.

We will ensure a balanced and nutritious menu is available for you and provide you with a choice of menu for breakfast, lunch and evening meal which will accommodate your dietary needs and, as far as practicable, your personal preferences.
Snacks and drinks are available throughout the day and night. Within the care home you will have  your own bedroom, and a range of communal areas, gardens and outdoor space. 
Optional extras
We can arrange the following extra services in addition to those covered by the fee for care and accommodation. We will advise you of their cost beforehand: 
Hairdressing
aromatherapy massage
newspapers
beautician appointments
dry cleaning
transport/accompaniment to medical appointments.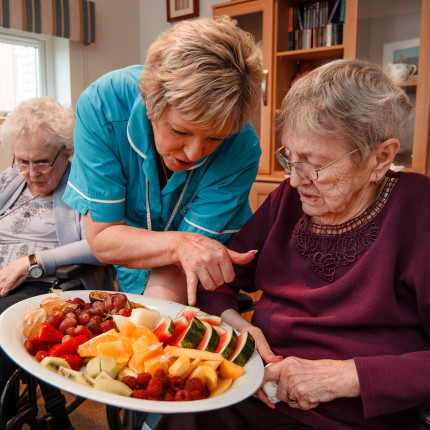 Privately funded places 
Our financial year operates from 1 April to 31 March and fees are reviewed annually. All fees are payable a month in advance. If you are funding your own care, you can apply to social work for a free personal care allowance.
If you are admitted to hospital and you are in receipt of Free Personal and/or Nursing Care payments, you shall be entitled to continue to receive this for the first 14 days, after which you shall be required to pay the full weekly fee thereafter. Upon your discharge from hospital your entitlement to Free Personal and/or Nursing Care shall normally be reinstated by the council.
Residents who are privately funded will receive a reduction of 10% in fees after the first week of any hospitalisation or holiday period.
Local authority funded places
Fees paid by local authorities must be at the nursing care rate and not the residential rate. At present, we do not charge top up fees where there is local authority funding.
To apply for local authority funding for a nursing care place, an application needs to be made to the local authority which will be put to a panel for a decision.
Find out more about funding places in a care home on the Care Information Scotland website. If you are admitted to hospital, we will keep your room for six weeks. Subject to agreement between the Council and ourselves, this period will be extended if necessary.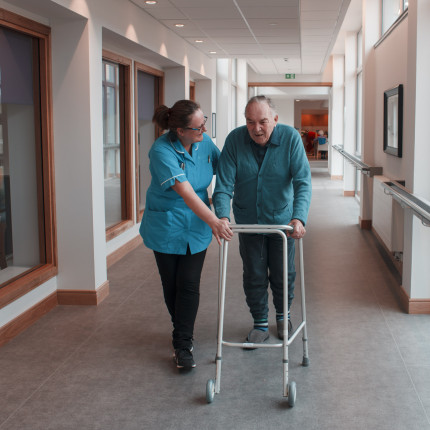 Cancellation terms
Throughout the duration of your initial four weeks in the care home, you or your representative may cancel your placement by giving seven days' notice. After your trial period, you and/or your representative may cancel this agreement for any reason by giving 14 days' written notice to both the council and to us. 
Trial period 
The first four weeks of your stay will be regarded as a trial period to ensure that the care home is suitable for you. This period may be extended by agreement between you, us and the council to allow further consideration of your care needs.
Insurance
Sight Scotland has public liability insurance and other insurances relevant to the provision of care. However, personal possessions and money are not covered by the organisation's insurance and any cover required must be arranged individually. We are not able to store valuables.
Cash
It is advisable not to have large amounts of cash and we are unable to take responsibility for it. A small cash float may be retained on your behalf by the Administrative Assistant for incidental expenses with the agreement of you and your representative.
 
Payment of fees 
The weekly fee is detailed in the individual placement agreement issued to you by the local authority. This sets out the amount of the contribution you are required to pay as determined by a financial assessment by the council. Any changes in your contribution will be notified to you by the council.
Payments are taken four weeks in advance. If the timing of your Department for Works and Pensions benefits payments prevents you from being able to meet the arrangements, we shall be pleased to arrange an alternative plan with you and your Care Manager.
Are there additional charges?
There is no additional service charge over and above the agreed rate for the cost of your care and accommodation.
Please contact us if you have a question regarding admissions and fees.