What is your background?
"I'm originally from Cumbernauld. I studied a Bachelor of Science in psychology at the University of the West of Scotland"
"At university, I was always the team leader in different things, so it seems to be my nature to be a coordinator."
What is an average day like?
"When I'm on the floor, I'll be organising activities, facilitating reminiscences with residents, running events and exercises, and helping residents enjoy the entertainment.
"We gauge what each care home resident's needs are and we adapt our care for that.
"For example, we might arrange for residents to socialise with each other, such as a tea party. We'll explain where everyone is, and say,  'Mary, on your left-hand side is Pat. Mary's wearing a really nice purple jumper today'. We've got a lot of residents that are 90 years and over, so it's having that empathy and helping them."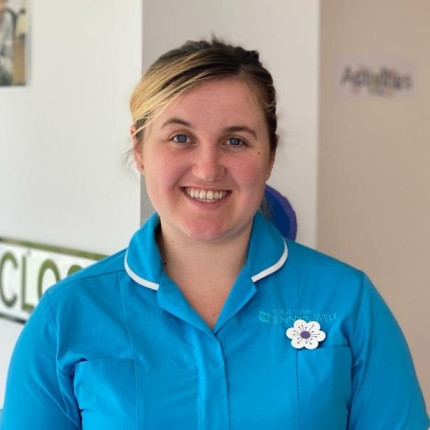 What sort of technology do you use on the job?
"We use Samsung Galaxy tablets with a software called PCS, which stands for Person Centred Software.

"We log all sorts of details on these tablets and make notes about a resident's preferences. So, I can look at a residents' notes and see that, for example, Mrs Smith doesn't like activities in the morning, she prefers quiet activities. 

"Or, I might see that she's tired at the end of the week, so I can look up what films she enjoys, and I'll put on a film for her that she hasn't seen in a while."
What are the highlights of your role?
"There are loads. Often, it's not just one moment. For example, there might be a resident who hasn't been participating recently, but then they start to really engage and you can see they are enjoying an activity, and you realise it has made their day. Then you feel like you're doing your job right."
You may also be interested in
Our specialist nursing homes are ideal for older people with sight loss who are finding it hard to cope at home without assistance.
Jenny's Well is a  modern nursing home in Paisley that was built to help older people with sight loss live independently with care and support from expert staff.
Young adults with visual impairment and additional complex needs are cared for at our two Edinburgh homes.