What is your background?
"I started at Royal Blind in April 2019. My husband and I got married in Scotland and we adopted our two children three years ago.
"Forward Vision has been very accommodating and very supportive of our home life."
What are your responsibilities?
"I take responsibility for the support that's provided at Katrine House.
"I am responsible for the paperwork, supervising staff and managing the rotas. I supervise 17 staff and ensure our team are trained and are working to the best of their ability and to the individuals' needs.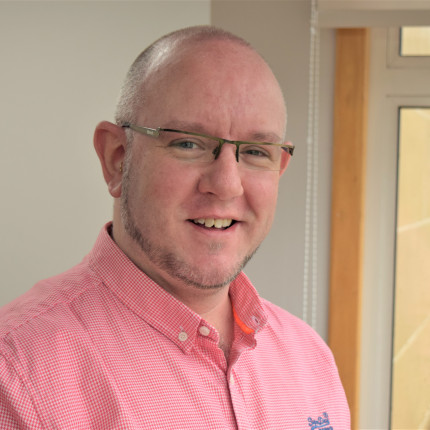 What do you enjoy about your work?
"I am proud of the way care and support is provided here.
"The way care is provided is driven by the individual's needs: their likes, their dislikes, their personalities, who they are – seeing past their vision impairment.
"Whether someone can verbally communicate or not, someone it's about getting to know and understanding them. Then, it's about appreciating what they like and what they want out of life, and making those things happen.
"I find it very empowering for me as an individual, doing the job that I do."
How would you describe your team at Forward Vision?
"My staff are committed – their dedication is astounding.
"The level of confidence here is huge and it's great to see staff taking on training opportunities. If they haven't got exactly what they need, they'll find a way to learn it. It creates a very strong staff team who aren't frightened to put their ideas forward."
What are the shifts like?
"We have four people on an early shift, four people on a back shift (afternoon and evening), three on the night shift, and three sleepovers.
"Each house has one awake night staff member and one sleepover staff member, who can be woken to assist if there is an incident where they require support."
What advice would you give someone who hasn't previously worked with people with vision impairments before?
"Each person has their own likes, dislikes, wants and aspirations.  Providing care with this in mind enables Forward Vision care workers to help make a difference in people's lives.
"Just because a person has a visual impairment, it doesn't mean they can't do what everybody else does. It's just finding a different way of being able to do it.
"That is one of the reasons why I chose this organisation to come and work with."
You may also be interested in
A home for life and short breaks for adults who have a visual impairment and additional disabilities, who need 24-hour care and support. Morningside, Edinburgh.
A home for life for adults who have a visual impairment and additional disabilities, who need 24-hour care and support.
Sometimes sight loss can make it difficult to live independently - especially when combined with other disabilities and health needs. Sight Scotland is committed to providing extraordinary specialist care, every day.