How did you get into nursing?
"I worked as a care worker for a Scottish charity for children with a disability in the Borders. That's when I realised I wanted to get into nursing. So I studied a nursing degree at Edinburgh Napier University and came to Royal Blind after that.
"What I find best about nursing is that because you work so closely with the children, you get to know them as individuals. You can brainstorm with the staff and put interventions and strategies in place to make life better for the children."
What does an average day involve?
"The Royal Blind School offers a 24-hour nursing service and we do 12-hour shifts. We will work three-day shifts in a row, or three-night shifts in a row if we're on a week of night shifts.
"For a day shift, we start off in the morning in the residential house. We help some of the kids get up, we do a medicine round and we help them with their morning routine. Then we're based at the school from 9am to 4pm.
"At school, we go to meetings and reviews. We'll meet with different professionals, such as physios or speech and language professionals. We'll speak about how the kids are doing and talk about if there are any new needs to meet. We do a lot of office work while the children are at school.
"From 4pm, we'll come back to the residential housing for a second medication round. We might need to take blood samples, so we'll do those. Then it'll be home-time."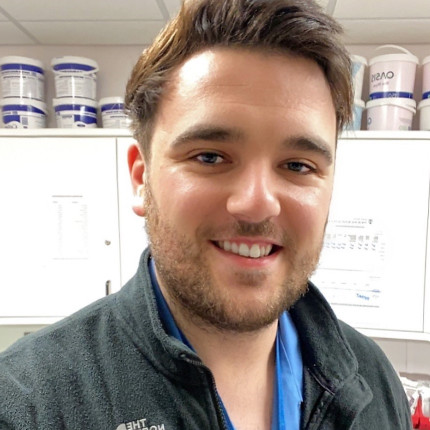 What are the night shifts like?
"For a night shift, we'll come in and get a handover. We'll do an evening meds round which can take up to 2 hours and we'll help with changing and getting the kids to bed. When the kids are asleep, we'll do a bit of cleaning and we'll do a meds audit once a week.  There's a care worker on the night shift as well."
"The shift pattern is one of the good things about the job. Because you work three shifts a week, your days off come around quickly.
What parts of the job do you enjoy?
"What I enjoy is that you really get to see the kids progressing. A lot of the kids have quite challenging behaviours. Each of the nurses have key children and we'll work closely with their care workers to put strategies in place to change that behaviour. Over time, you can see that progress and you know you've made a difference."
What skills have you learned while working for Sight Scotland?
"Each of the nurses at the Royal Blind School has a different role on top of their nursing work. My role is an Infection Prevention and Control Link Practitioner.
"In this role, I work with the charity's senior leaders on our Infection Control Policy and our Standard Operation Procedure. If you were a new member of staff, you would read that Standard Operation Procedure and you'd know the most current information about a virus and what we're doing to protect everyone against it.  It does come with a new set of challenges but it does keep the job interesting."
What advice would you give someone who hasn't previously worked with people with visual impairment before?
"Ask lots of questions. When I first started, I hadn't worked with anyone with a visual impairment before. The staff here are so knowledgeable about how to work in a person-centred way, so you can take all the advice staff give you.
"When it comes to visual impairment, no question is a stupid question. Ask the person you're caring for about how they would like to be treated and what their routines are."
You may also be interested in
The Royal Blind School is Scotland's leading provider of specialist learning to children and young people with visual impairment, including those with additional complex needs. 
We provide supported residential care for blind and partially sighted children and young people, including those with additional disabilities and health needs, at our Royal Blind School campus in Edinburgh.
Young adults with visual impairment and additional complex needs are cared for at our two Edinburgh homes.